Police Dog House Plans
1 Dog / 1 Door Dog House
Welcome to Police Dog House Plans.com where you will find the best dog house plans available to build your dogs a house that was originally designed for law enforcement personnel such as Police Department K-9 Units, Ontario Provincial Police K-9 Units, Border Control Guards, State Troopers, Sherriffs etc. With the help of such personnel along with veterinarians, we have come up with this sturdy and durable design to give the best comfort available for the dog and ease for the owner. These are people who rely each day on durable quality housing for their valuable working dogs. We have been in business over 35 years and have built numerous dog houses but this is the final design of the highest quality available.
Because of the high demand for these houses we have made these dog house plans available for the general public to purchase so that you too can have one of the beautiful police dog houses for your pet.
About our Police Dog house Plans
Through the years, we have built dog houses with barn and peak style roofs. Dog houses with these styles of roofs is an ideal place for wasps, hornets, and other types of insects or animals to build their nests. When using these styles of roofs, you cannot have an inside wind wall which protects the K-9's in cold and windy weather, and there will also be a large amount of heat loss. It is also not designed with the handler in mind when it comes to cleaning either. You definately don't want to buld a house with a peaked or barn style roof.

For these reasons; our police dog house plans have a slightly sloped roof, that is on hinges, which makes cleaning and accessibility to the inside of the dog house very easy. All police dog houses have a removable wind wall for the comfort of your dogs. This removable wind wall is designed for the correct size of your dogs in order for the dog to be able to heat the sleeping area with their own body heat. Our police dog houses are used by police in housing all kinds of highly trained canines in areas such as bomb detecting, narcotics, and forensics, as well as search dogs for tracking and crowd control. Many city police departments, Ontario Provincial Police, State Police, Fire Marshals, Natural Resources, Border and Customs Officers, and Private Security Agencies, use our police dog houses. Whether you have a professional service police K-9 valued at thousands of dollars or, a working dog, hunting dog or herding dog, or a family pet who watches over the yard, this would be the best and most proven dog house that you could have, to protect your dog in all weather conditions.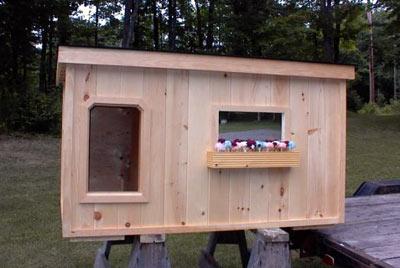 Police Dog House Plans are Suitable for all Climates
Presently these houses built from our police dog house plans are in use in countries all over the world, such as Australia, the United Kingdom, Canada, Europe, and across the United States where the climates vary from extremely hot to extremely cold. These dog houses has been proven suitable in any climate. These police dog houses can be adjusted to match the weather condition of where you are located. In areas where the summers are hot and humid, raise the hinged roof to let the warm air out and draw the fresh air in, while still providing your dog with a comfortable area of shade. This small task creates ample air flow for your K-9's and even though the roof is raised, this cannot be detected if you're looking at the dog house. The dogs will still be able to get on top of the roof, when it is raised, without causing any harm to the structure.

In the cold winter months, insert the wind wall, and lower the roof. The wind wall breaks the wind and creates a smaller space inside the dog house that your dog or dogs can easily warm with there own body heat. It is imperative that your dog house is sized to match your dogs, so he or she sleeps in a space small enough that he or she is able to heat. These houses are designed according to the size of your dog, so that the dog is best protected in all climates.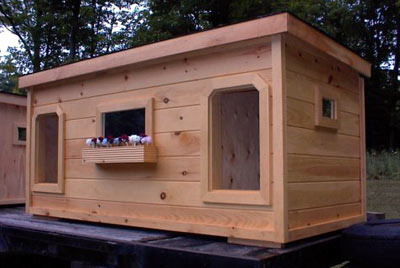 Police Dog House Plans - Construction of the House
A dog house has to be structurally sound to protect your dog. Our police dog house plans have the dog houses elevated off the ground, so that the floor will not get damp from the moisture in the ground. The roof is on hinges so it opens and closes with ease which makes cleaning the inside of the dog house quick and simple. We use paint or stain to seal the outside. The roof is slanted, so water drains away on rainy days, but is still flat enough, so that your dog can keep watch, or take a nap on top of the dog house, when the weather is suitable.

These dog houses are fully insulated on the floor, roof and walls and are constructed like a house you or I would live in. Once completed, this beautiful dog house will last for many many years. This will most likely be the last dog house you will have to build.

All our police dog house plans come with the instructions for an optional outside kennel attachment. If you already have an existing kennel, these plans allow you to attach the dog house to the outside of the kennel. Using this method you will still give your dog the full use of the kennel area, and also allow them to have the best dog house available. Connecting the dog house to an existing kennel is easy using our easy to follow step by step instructions that comes with each set of plans.

No special woodworking skills are required to build from these police dog house plans. A few common tools are all you will need. With a hammer, square, handsaw (or skillsaw), a jigsaw, and a drill, you will have all the tools you need to construct your dog house. Paint or stain the outside whatever color you or your K-9's would like, or, build the deluxe version and surround the outside of the dog house in attractive tongue and groove pine, for the look of a stained, natural wood exterior. Step by step instructions for building both the regular dog house and the deluxe dog house are included with each set of police dog house plans, for the size and model you choose.

Police Dog House Plans - "Buyer Beware List"
With our 35 years of experience and knowledge of dog houses we have compiled a list of things to for you to look at before you purchase any dog house plans. This list will help you decide where you should purchase your dog house plans. We call it our "Buyer Beware List" and hope this will give you some of the knowledge we have acquired over the years.
 
"Don't Delay, Give your Pets the Comfort They Deserve Today"
© Copyrights Reserved by Police Dog House Plans.com